episodes of Jack Benny Show
Jack Benny was truly one of radio's most important and beloved stars. His first appearance on radio was in 1929, and his shows for various sponsors including Lucky Strike, Jell-o, Grape-Nuts and others, ran until 1956, when he moved to television.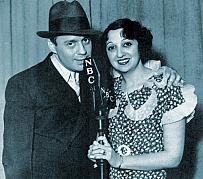 Jack Benny and his wife

Mary Livingstone in an early portraitA massive collection of large PDF files each containing multiple scripts from Jack Benny's "Lucky Strike" broadcasts scripts from the late 1940s through mid 1950s, can be found on the industrydocumentslibrary.ucsf.edu/tobacco/ website. Literally thousands of pages of scanned "Jack Benny" shows are available for download.
Click on a script title below to view it:
(Return to Library)