about the generic radio workshop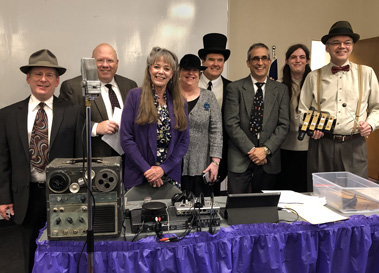 The cast of the Workshop's 2018 "On the Air" performance The Generic Radio Workshop is named in tribute to the CBS Radio Workshop (and the Columbia Workshop before that), one of old -time radio's true high points. We performed our first radio recreations back in 1981, and have kept going at intervals just for the art and the fun of it. Headed by Larry Groebe, and Julie and Paul Barrett, the GRW has over several decades involved many of Dallas/Fort Worth's top vocal talent in performing classic shows as authentically as we can manage.
While GRW recreations are aimed especially for the benefit of live "studio" audiences, they have also been heard on radio stations throughout the Southwest. Associated for years with the National Museum of Communications in Dallas, one GRW high point was it's 50-years-to-the-day recreation of "War of The Worlds" which was aired over the Texas State Network. The show was so realistic that at least one listener tuned past it because he thought he was hearing the 1938 original!
If you're interested in bringing back the long-lost art of radio drama (and comedy, and variety, and...) please feel free to contact us! The Golden Age of Yesteryear...lives again!
what we sound like in performance
Audio and performance quality on these older shows varies - the enthusiasm doesn't. (Many of the science fiction convention productions were workshops introducing amateur actors to radio)
Return With Us Now - Frisco Community Theater May 20, 2006
Planet Man! - SoonerCon, Oklahoma City, July 15-16, 2006
Sam Shade, Private Mouth - FenCon 3, Dallas TX, September 23, 2006
The Shadow - Vintage Radio and Phonograph Society, Mesquite TX, November 2006
Love Is On The Air - Lewisville Community Theater, February 2007
Flash Gordon - SoonerCon, Oklahoma City, June 10, 2007
The Fentastic 4 - Fencon 4, Dallas TX, September 22, 2007
Michigan Jones and the Crystal Skull and Crossbones - Soonercon, Oklahoma City, June 2008
The Return of Sam Shade - Fencon 6, Dallas TX, October 4, 2008
Buck Rogers, Flash Gordon - Stellar Occasion 3, Dallas TX, December 27, 1996