Want to produce your own old-time radio show? This is the easiest way to do it. A Radiokit contains everything you'll need except actors! Ideal for:
Community Theatres

School Drama Classes

Senior Centers

Churches

Audio Drama Groups
...or anyone who wants to see how radio drama used to be done,  and try it themselves. 
Each Radiokit is shipped to you with all the materials you need to produce a 30 minute or 60 minute recreation of a  classic radio show from the Golden Age of Radio. We've gone back to the  actual original scripts from the archives of the Generic Radio Workshop, never made available to the public, added all the music, sound effects, and advice you need to get started, enclosed in a sturdy leatherette 3-ring director's binder.
You create the show as your cast and talents permit. Use all the included sound effects and music, or add your own live FX for an authentic radio studio experience. Explore the imaginative possibilities of the Golden Age of Radio, taking advantage of the Generic Radio Workshop's 40 years of producing and reproducing Old Time Radio to jumpstart and simplify your show. It's educational. It's historical. It's fun!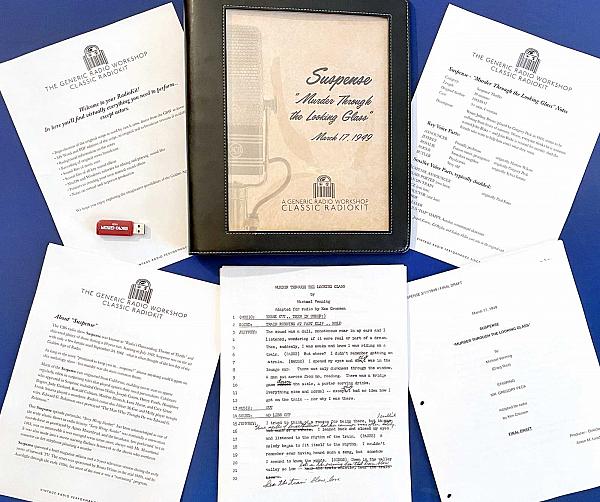 EACH RADIO KIT CONTAINS...
A precisely reproduced copy of the decades-old original script used by cast & crew, complete with handwritten notes and edits
A formatted, printed, and punched copy of the script for performance
Background information on the series
Advice on creating your own sound effects
Notes regarding virtual and in-person production
AND A USB FLASH DRIVE WITH...
Sound files for all music cues
Sound files for key sound effects
MS Word and PDF editions of the script, in original and as-broadcast versions when available
Recordings of the original broadcast series and episode (if it exists)
MacOS and Windows software for editing and playing sound files
"We are a nonprofit arts center...and we do radio programs about twice a year. 
I stumbled across the radio kits and these are great.  Getting the music and sound effects saves us tremendous time. "

"Excellent kit and extremely informative background and tech information. Thank you!"

"Just wanted to say thanks and what an amazing radio drama kit you provided.   I can't wait to do this episode."

"Thanks! I think my students will have fun recreating this radio drama this semester."

"Your kits arrived last week--and everything looks great. I was very excited to see the kits available on your website. I can't wait to hear and use your SFX and music cues.  I direct/produce radio plays for a radio reading service for the blind and low vision community here in MA.  I love doing it! "

"Thank you, thank-you, thank-you!! I teach a broadcast performance course online through Cuesta College in San Luis Obispo, Ca. Thanks for providing a  great resource AND some relief for me."

"I wanted to do a follow-up email to let you know how much fun we had doing the re-enactment of the "Broadway's My Beat - Howard Crawford Murder Case." The audience feed-back has been terrific, which is always welcome since I had the pleasure to Direct it."

"Radiokit arrived and is fantastic! Thank you so much...The students are going to love this."

"We performed our first broadcast thanks to your Looking Glass radio kit and it was fantastic.  Our cast had the best time and we received glowing comments especially the sound effect!  Our next show is Broadway is my beat.  We HOPE YOU can provide additional kits mainly sound effects for other shows similar to what we did and will do our members love this stuff.  Thank you!!!!!"

---
Suspense:
"Catch Me If You Can" 

Broadway's My Beat:
"The Howard Crawford Murder Case"

Suspense:
"Murder Through the Looking Glass" 

Screen Directors' Playhouse:
"Wuthering Heights"

Children's Adventure Serials:
"Jack Armstrong" and "Skippy"

Life With Luigi:
"Luigi Starts a Barber Shop"

Sky King:
"The Atomic Trap - Episode 7 - Chapter 126"

Gunsmoke:
"Potato Road"