episodes of Vic and Sade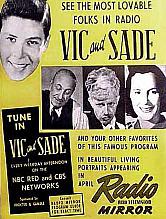 Promotion for Vic & Sade This gentle, eccentric, well-loved comedy series can cause first-time listeners to scratch their heads. It's a show without obvious punchlines or belly laughs. But listen to a selection of episodes, and the self-contained small idiosyncracies of life at the Gooks may well grow on you like the novels of Dickens (to whom author Paul Rhymer's creations have been compared.)

Vic and Sade first appeared on the Blue network in 1932, and ran for 13 years on NBC and CBS, and briefly in 1946 on the Mutual network.
In the 1970s the series spawned two printed books of scripts, reprinting some 60 episodes which may be found online here: http://paulrhymer.net/scripts.cgi
In addition, we have links to several specific episodes not included in the books ...
Click on a script title below to view it:
(Return to Library)