episodes of Phil Harris-Alice Faye Show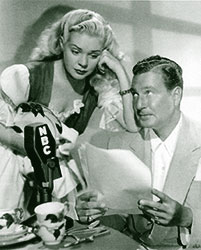 Radio comedy sure had it's share of real-life couples: George Burns and Gracie Allen, Jack Benny & Mary Livingston, Fred Allen & Portland Hoffa, Ozzie Nelson & Harriet Hilliard, Jim and Marian Jordan (that is to say, Fibber McGee and Molly) - and Phil Harris and Alice Faye.
For six years, starting in 1948, the couple played comedic versions of themselves in a well-tooled situation comedy which also showcased Harris as bandleader/singer and Alice Faye's singing as well. The supporting cast included radio vets like Elliott Lewis (himself one-half of a radio couple), Walter Tetley, and Sheldon Leonard.
Click on a script title below to view it:
(Return to Library)