episodes of Jack Armstong, All American Boy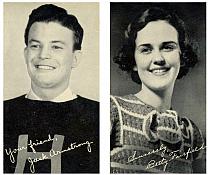 Promotional cards of Jack Armstrong cast members In this author's opinion, there's no better demonstration of the delightful excesses of old time radio juvenile dramas than "Jack Armstrong, The All-American Boy." Jack, along with his younger friends Billy and Betty and their uncle Jim, manage to pack a thousand lifetimes of world-circling adventures between their occasional studies at Hudson High, escapades which surely must have left their daily listeners jealous. Tangling with foreign spies; crossing ice floes; working with atomic energy secrets -- Jack, Billy, and Betty were never less that breathless, talking to each other in the pruple prose that only radio could make plausible.
Jack Armstrong was on the air "to get you to eat Wheaties" from 1933 to 1951 and apparently also served as the inspiration for the cartoon series "Jonny Quest."
Click on a script title below to view it:
(Return to Library)