episodes of Easy Aces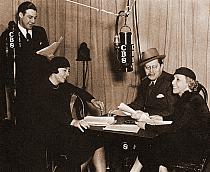 Goodman ("Goody") and Jane Ace with

other members of the cast, mid '30s While everyone remembers the scatterbrained humor of Gracie Allen, Jane Ace could match her misstep for misstep. Through the words written by her husband, Goodman Ace, Jane Ace created her own world where, as she put it, "If I'm wrong I'm not far from it!"
Easy Aces was one of the wittiest programs on the air -- an urban flipside to "Vic and Sade" perhaps. The series ran on various networks from 1931 until 1945, and a half-hour version titled "mr. ace and jane" followed for awhile. Goodman ace continued writing his witty observations well into the 1970s, including a stint as essayist on National Public Radio.
An excellent article on the show, including a collection of "Jane-ism"s is just a click away
Easy Aces was inducted into the Radio Hall of Fame in 1990.
Click on a script title below to view it:
(Return to Library)