episodes of Arch Oboler's Plays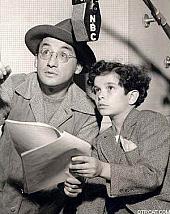 Oboler directs Tommy Cook Although he gained an inevitable notariety for his work on horror series "Lights Out", Arch Oboler was truly one of radio's auteurs, producing a wide variety of deeply-felt plays about the human condition, including a number focusing on World War II. Many of these were collected into a number of printed anthologies. Oboler even wrote and directed the film that kicked of the 50's 3D craze, "Bwana Devil."

The anthology series Arch Oboler's Plays originally ran on NBC for a year beginning in 1939, with other series under various titles also being broadcast in the late 1930s through the 1940s.
For more, see Wikipedia's entry on Arch Oboler.
Click on a script title below to view it:
(Return to Library)