episodes of Lux Radio Theater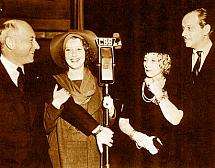 CB Demille "directs" another Lux show "Lux presents...Hollywood!" It's said that 40 million listeners tuned into the Lux Radio Theater to hear Cecil B. DeMille (and later, William Keighley) introduce another radio adaptation of a famous Hollywood film, almost always with the film's original actors in the starring roles.
For two decades, from 1936 until 1955, Lux (the family of soap products from Lever Brothers) sponsored this highly successful program. The allure of Hollywood, the highly-paid big-name stars and films were what got the audience to tune in; behind the scenes however it was pure radio with a top collection of faceless radio players handling the lion's share of the work.
In 1945, DeMille left the hosting job over an actor's union dispute and was replaced for most of the next decade by William Keighley. The hour-long radio adaptations were generally quite well done, and many ("It's a Wonderful Life" for example) are extremely popular choices for audio theatre groups today.
Click on a script title below to view it:
(Return to Library)