The Generic Radio Workshop is performing live April 21!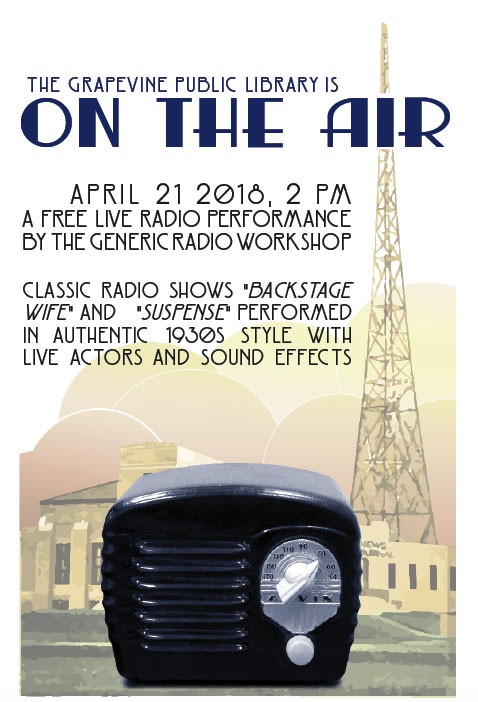 The performance will be at the Public Library in Grapevine Texas as part of the library's 95th anniversary celebrations. The cast includes the vocal talents of J.D. Ryan, David H.M. Lambert, and TV actress Anne Lockhart -- daughter of the legendary June Lockhart, who will be performing a role originally played by her mother on Suspense.
Welcome to the Generic Radio Workshop's online repository of scripts from the Golden Age of Radio: the original and largest collection of radio transcripts on the Internet.
As periodic presenters of Old-Time Radio show recreations, we have long sought out scripts from the Golden Age of audio drama. (Roughly speaking, 1930-1960.) They turn out to be few and far between. Why? Surely every radio thespian didn't drop his or her pages onto the floor to be swept into the trash after the broadcast.
And yet, few survive. Which means - if you want to explore OTR further than just listening to the shows themselves - if you want at the source material, you have few options. You can transcribe the shows yourself. (A laborious process - we've done it.) Or you can scour used bookstores to hunt down 70-year-old books on radio acting in hopes they have a script or two. (After years, we've located several dozen.)
Or you can hang out here. We're simply providing a scholarly resource in the best tradition of the Internet, making more available what once was scarce. We make no claims to ownership of these materials; they remain, as they should, the copyright of their respective owners. But as the shows themselves have brought pleasure to millions, so we hope do the original scripts themselves.