episodes of Arch Oboler's Plays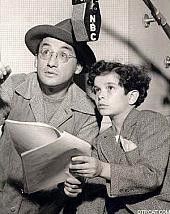 Although he gained an inevitable notariety for his work on horror series "Lights Out", Arch Oboler was truly one of radio's auteurs, producing a wide variety of deeply-felt plays about the human condition, including a number focusing on World War II. Many of these were collected into a number of printed anthologies. Oboler even wrote and directed the film that kicked of the 50's 3D craze, "Bwana Devil."
The anthology series Arch Oboler's Plays ran on NBC for a year beginning in 1939.
For more, see Wikipedia's entry on Arch Oboler.
Click on a script title below to view it:
(Return to Library)